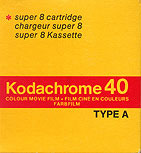 Kodachrome 40:



This is a low speed (ASA 40) color film with excellent sharpness and micro-fine grain. It is the ideal choice for the finest possible images where there is sufficient light.
When the "85" filter is used for Daylight,
the speed is ASA 25. Proven Archival qualities.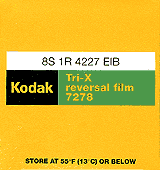 Kodak Tri-X reversal film:


This is a high-speed black-and-white Panchromatic film. It is characterized by good sharpness, moderate grain, and excellent tonal reproduction.
As with the Plus-X above, there is a slight
difference in ASA based upon the type of lighting
- without the filter, Daylight ASA is 200, Tungsten ASA is 160. Daylight ASA with the filter is 125.